Aims to equip youth from colleges of small towns to earn reputed jobs.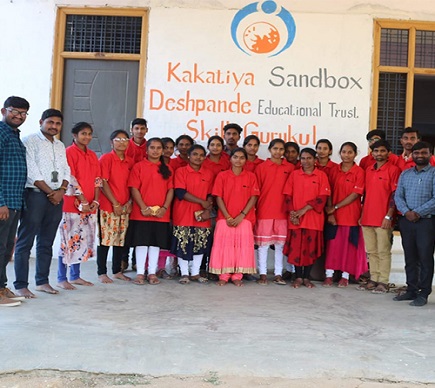 ABOUT
US
Elevate' is the skilling training program from Deshpande Skilling that aims to equip youth from colleges of small towns to be competitive in the job market and earn a job in the organized sector. The program also includes placement assistance that facilitates students getting opportunity to face interviews and the selection process of reputed companies. The program is run from partner colleges ,and trains select students of the particular college. Our survey with employers indicates that certain specific skills in fresher talent are highly valued by employers. Elevate program is designed to precisely exercise and develop these highly valued skills in our students. The course runs alongside the academic term of the students and includes training on Effective English and communication skills, besides enhancing Reasoning/Aptitude, computer and interview skills. The program is conducted using on-line learning for flipped classroom, committed trainers for blended classroom, and a variety of activities that builds confidence and aspiration in the students. The placement assistance cell periodically assess employability of the students using scientifically developed assessment tools and assist the students for their professional career.
Who are the beneficiaries:
The students studying in degree colleges are the beneficiaries of this program in which they are tutored to fabricate their profession in the segment of HR, Operations, Accounts, Finance & Banking.
How are they benefited?
The rural youth who are below average in their skillfulness, fasten together to this course and by the end of the training; they turn out to be so confident that they feel they are industry equipped. The exposure visits to Industries, Banks and Colleges etc are the part and parcel of this to boost their confidence and convincing capabilities.
Course Duration
Entire Year (College working days)
Qualification
Any Bachelor Degree
Admission open and close dates
Every Year May - April
What is the batch size in classroom
40 to 50
How to join to the program and its process

For Registration Contact us
Process for counselling
Appear in Entrance Test
Personal Interview
Admission Process
WHAT AM I LEARNING
IN THIS PROGRAM ?
Soft Skills | Life Skills